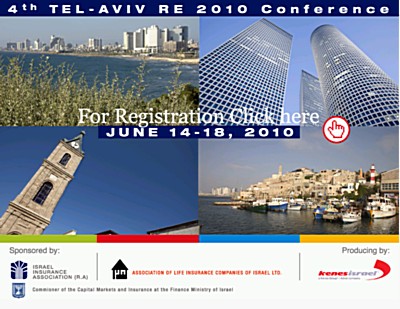 The 4th Tel-Aviv Reinsurance Conference will take place between 14th – 18th of June, 2010 under the sponsorship of the Israel Insurance Association (R.A.), Association Life Insurance Companies of Israel Ltd. and the Commissioner of the Capital Market.
The program of the conference will be as follows:
Monday 14.6.2010– At 8:00 p.m. - Gala dinner.
Tuesday 15.6.2010 and Wednesday 16.6.2010–Business meetings at the hotel and/or at the offices of the insurance companies.
Thursday 17.06.2010– the Israel Insurance Association will hold aninternational symposium in respect of Catastrophe Insurances at the Netanya Academic College of Insurance.
Please register to the conference and make the hotel reservation via the following web-site: http://events.myreg.co.il/re2010/