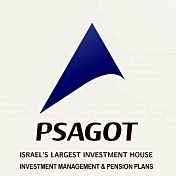 Psagot Insurance Company (P.I) Ltd.
in October 2013 finalized the acquisition of the life insurance operations of Shibrit Insurance Company Ltd. was completed by Psagot Insurance Company (P.I.) Ltd.. The acquisition of the insurance operations coupled with the investment house's economies of scale enable Psagot to offer its clients security, credibility and stability along with a products basket that meets their needs.
Mr. Hagai Badash- Chairman
Mr. Arik Yogev – C.E.O.
__________________________________________________________________